MEREDIT — It's a classic line from a 1970 Grateful Dead tune, but the whimsical metal sculpture rising up from the middle of Hesky Park is also a spot-on assessment of 2020.
Anyone truckin' into the village can see it from Route 3 — seven words assembled on the grass, with stretched-out capital letters perfectly summing up life over the past six months: "WHAT A LONG STRANGE TRIP IT'S BEEN."
It's entertaining to watch people's faces as they walk by or drive by the word sculpture, which sits by the shore of Lake Winnipesaukee, across from Mill Falls Marketplace. There's a nearly universal reaction for those seeing it for the first time: a double take, a split second to process, and then a grin.
Take a walk
Part of this year's 32-piece Meredith Sculpture Walk, the five-line word sculpture is the latest from Haverhill, Mass., sculptor Dale Rogers. He's also the creative wit behind the much-photographed "American Dog" sculptures — large-scale silhouettes etched with dog bone-shaped cutouts. Here in New Hampshire, there's one in Hesky Park and another in downtown Concord.
His work is displayed in private collections in 49 states and four countries. His handiwork is also on the University of New Hampshire campus in Durham, where a large red cardinal perches at the intersection of Main Street and Pettee Brook Lane.
"Over the years, I have incorporated iconic and whimsical shapes into my sculptures that help viewers connect with my pieces on an emotional level. I want to create thought-provoking work that is sophisticated, easily recognized and will serve as a 'mental postcard,'" Rogers said in his artist's statement.
Meredith's Sculpture Walk, which is sponsored by the Greater Meredith Program , has 13 new sculptures this year. Some of the pieces also drawing attention are "Mirrored Ellipse," an eye-catching play on reflection, by Dan Rocha of Lowell, Mass.; "Venus," an astrology-inspired of "tranquility, empowerment, fertility and allure," by Janice Rudolf of Sudbury, Mass.; and "Transit," two male figures in an athletic test of balance and strength, by Water Horak, of Little Compton, R.I.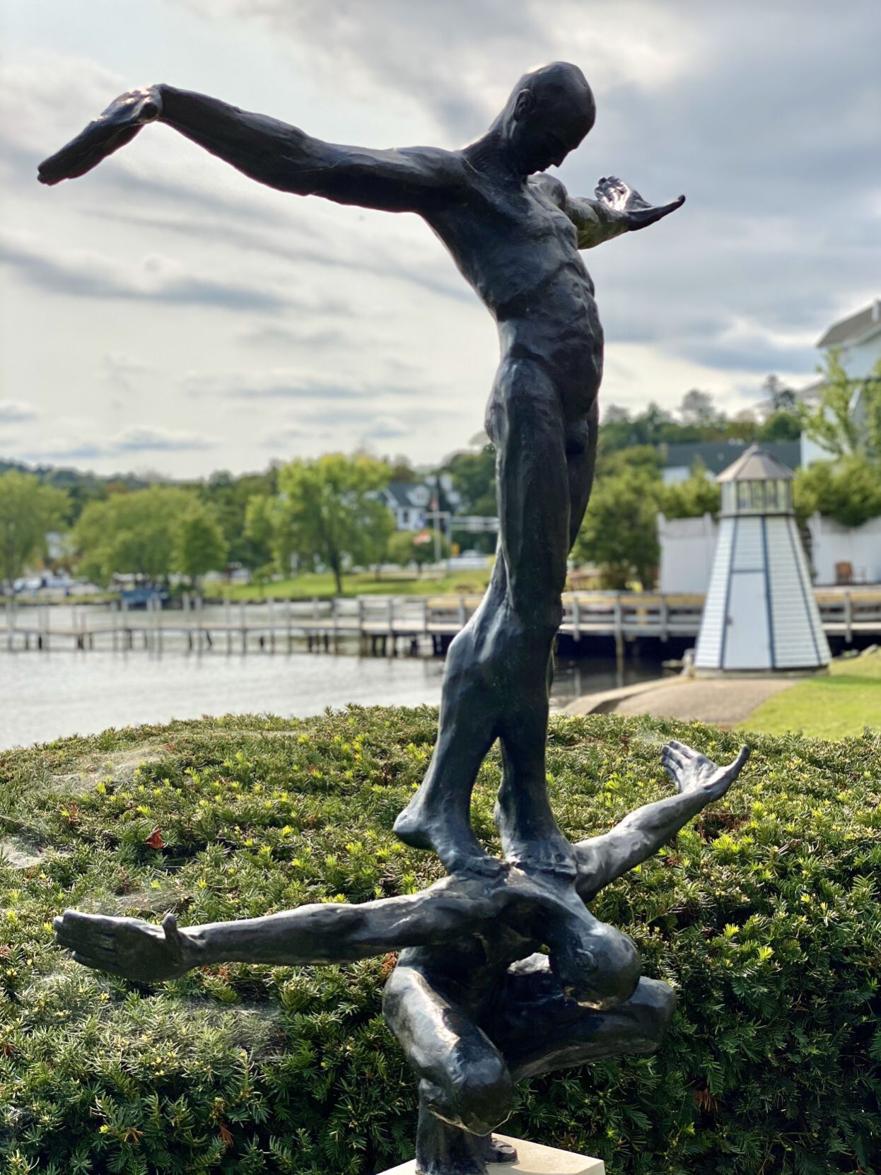 Though there aren't any docent-led tours this year, new trail maps of all the sculptures are in the process of being printed and are slated to be tucked into area kiosks on the route this week, said Michelle Brown, Greater Meredith's executive director.
A strange trip
Despite the overcast sky one recent day, Roger's "Long Strange Trip" sculpture still had a warm orange hue to it. It sports a rust-colored surface layer that actually protects the steel beneath. It has a weathered look that feels like comfortably worn-in jeans rather than a worn-out shirt relegated to dust-rag duty.
All of Rogers' large-scale work is designed, laser cut, welded and hand finished from Cor Ten or stainless steel.
"I take pleasure in creating work that inspires the public to think about the world differently," Rogers said.
That extends to "Long Strange Trip," which he called a time-consuming "monster of a welding project." This year has been a roller coaster, no doubt. But while Rogers acknowledges the stress and strain the pandemic has wrought, he also wants to focus on some of the silver linings.
"It created hardships. That's undeniable. But at the same time, there is an underlying positive thing. The world slowed down a little bit," he said. "I don't know that COVID actually gave us extra time; it gave us more perception of time. Life and death … it makes you look at time differently. I had more wonderful dinners with my kids than I had in the two years prior. That had to do with them not being in school at the time. For lack of a better word, me-time became family time."
A plus in a season of minuses
It was a plus in a season of obvious minuses. For a start, it put a halt to his big-dog art tours.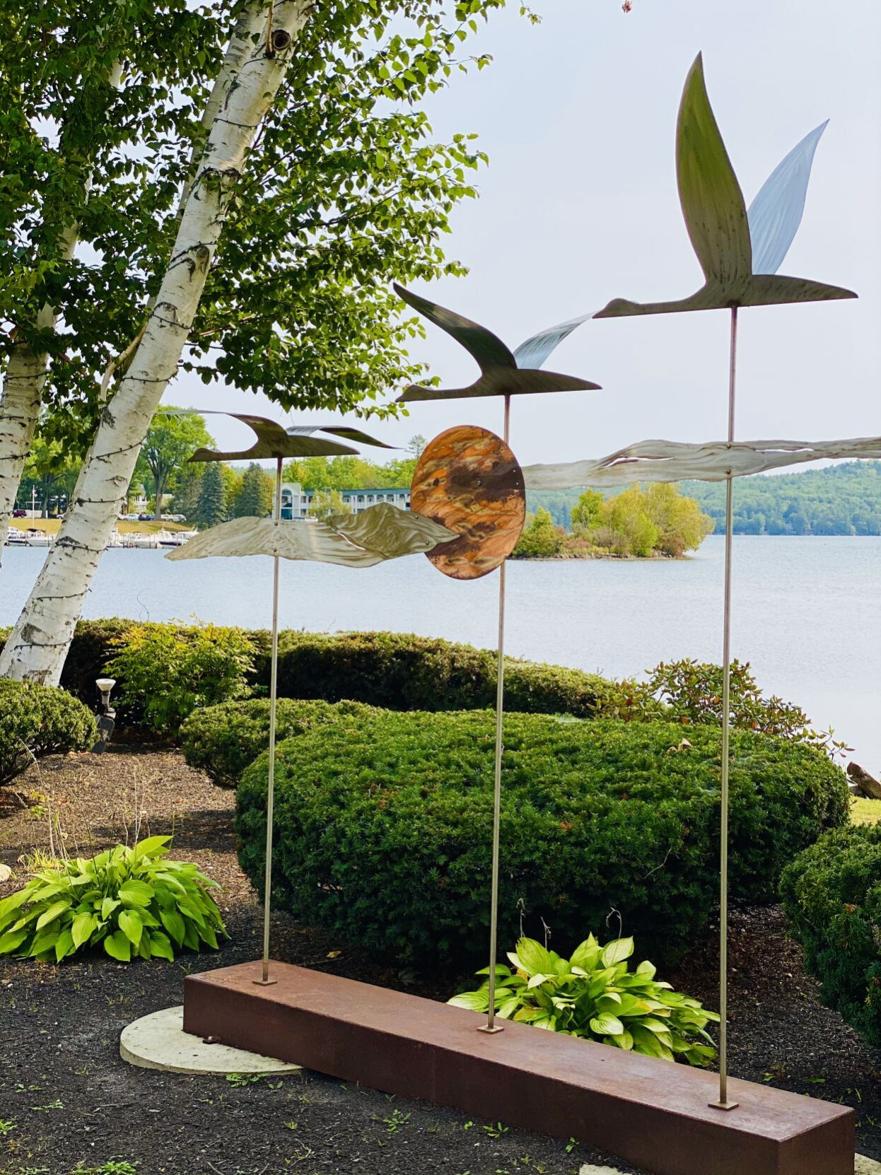 "I was supposed to go to the GoPro (Mountain Games). Now there are 20 (American Dogs) sitting in a storage unit in Colorado," Rogers said.
"From a studio point of view, I was thinking I would be dead in the water," added Rogers, who before the pandemic was juggling sculpting work with constant time out on the road with exhibitions.
"It was an abusive relationship with my career — not in a negative way, but I was totally absorbed in working, traveling, art shows and selling work — making a living. I wouldn't have stopped if you asked me, but when COVID came, there was a change … and in many ways, it was positive. Like, 'Man, how did I do that?'"
Rogers calls 2020 a time of a reevaluation, and the result was an artistic renaissance of sorts.
"One of those things people are having a hard time saying is that there is an underlying positiveness. In and of itself, that is a strange trip. It's very much a time when both sides of the coin are true — positive and negative," he said.
The road to this "Long Strange Trip" though, started before 2020 and a world impacted by the COVID-19 pandemic. Over a year ago, Rogers crafted the original piece in part in tribute to the father of a longtime friend and fellow Southern New Hampshire University graduate Gene Goldberg.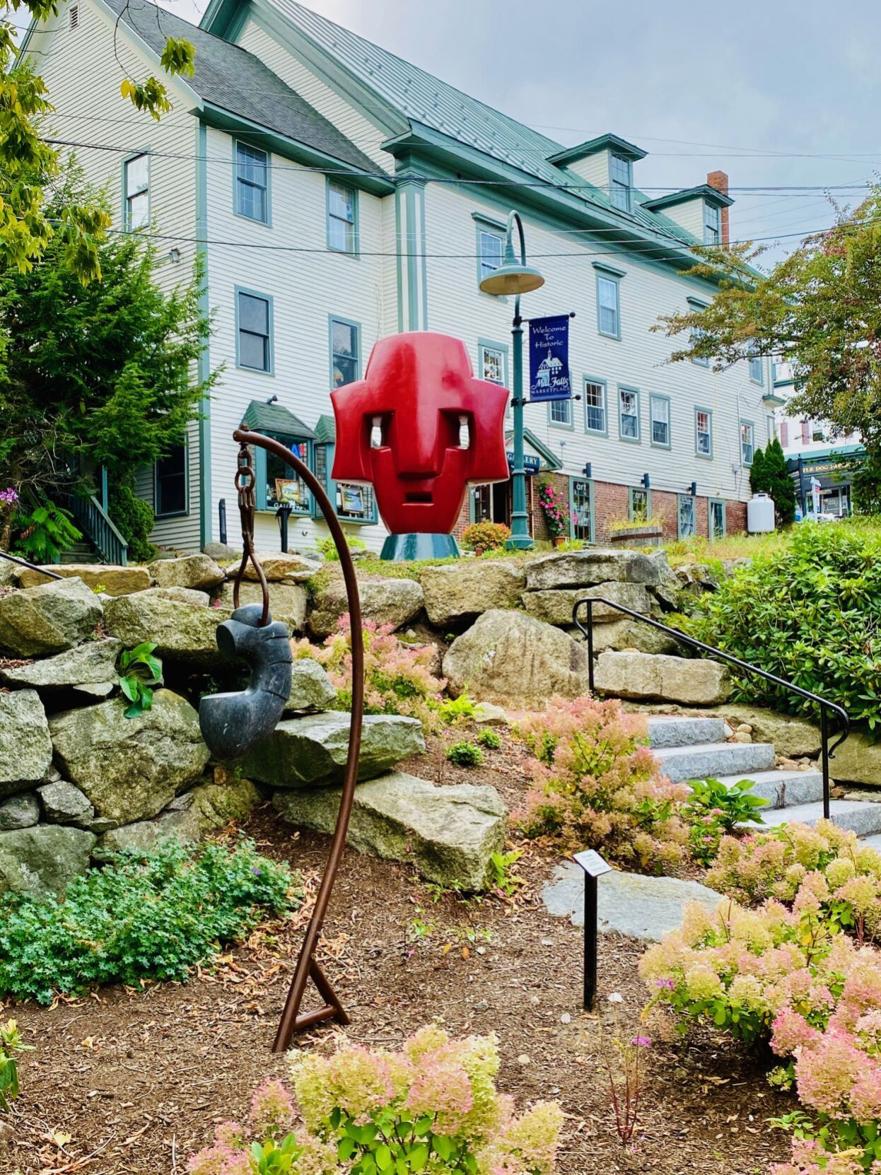 "You can see that in the second quote (on display)," Rogers said. "The quote is by Gene's father, Herb: 'In the end the true value will assert itself.' The original piece was designed and made in the fall of 2019. It's (now) in Phoenix, Ariz."
Rogers connected with the Meredith Sculpture Walk, thinking a second piece might be a timely addition to the route.
"After COVID hit, it just became serendipity. I don't think much else can describe 2020 other than it's been a wild year for everyone," he said.